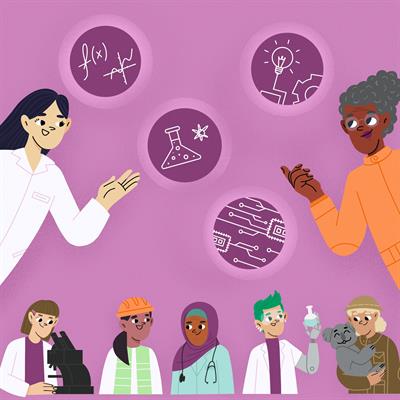 IF/THEN Women in Science Collection
Collection Editors
Becca Peixotto, Wendy Bohon, Ana Porras
Participating Sections
Abstract Submission Deadline
01.11.2023
Submission Deadline
15.01.2024
About this collection
Science is everywhere! Whether wearing a white coat or a wet suit, working on a mountain or at a microscope, exploring the ocean depths or our own brains, the IF/THEN Ambassadors hope to show you that anyone (and everyone) can be a scientist.
The IF/THEN initiative envisions a future where more women innovators are empowered to solve our greatest global challenges. The AAAS IF/THEN Ambassador program brought together 125 US-based women STEM professionals across a variety of fields and industries to serve as high-profile role models for middle school girls. Supported by an AAAS IF/THEN She Can Change the World grant, this Collection features researchers working in academia, at NGOs, and in industry in a wide range of fields to show readers that there are many ways to be a scientist and to inspire more young people to ask and seek answers to questions about our world. At IF/THEN we know that if you can see it, you can be it!
This Collection includes articles from women who are neuroscientists, ecologists, physicists, biologists, engineers, and health professionals. Their research asks questions about human health, biodiversity, neuroscience and psychology, earth sciences, chemistry, and engineering and shows how cutting-edge science often happens at the intersections of these fields. In this Collection, you can read about how movie technology is improving patient movement, how to protect bats and pika on a warming planet, the importance of brain and gut health, exploration, the impacts of catastrophic weather events, and emerging fields of science like medical physics.
Would you like to submit to this collection?
For researchers interested in submitting to this Collection, please consult our author guidelines and check that you have all the essentials included before submitting