Abstract
Dairy is important in many people's diets. Although all dairy products are made from cow's milk, various dairy products are made by different processes. This means that they can end up having different nutrients and properties. Researchers and nutritionists usually group all dairy as one food group, but this might miss information about the health effects of eating different dairy products. Immune cells are important to protect us when we get sick. Sometimes, immune cells can be turned on for the wrong reasons and cause too much inflammation, which can lead to diseases. We studied immune cells from people who ate meals with either butter, cheese, whipped cream, or sour cream. After eating cheese and sour cream, immune cells showed fewer signs of inflammatory processes than after eating butter and whipped cream. This may mean that cheese and sour cream could be healthier than butter and whipped cream.
Dairy—Many Different Products Made From the Same Milk
Many people eat dairy products every day. Milk, cheese, cream, butter, yogurt, and sour cream have very different tastes and textures, but they are all made from cow's milk. Bacteria are added during the production of some dairy products, like cheese, yogurt, and sour cream, to start a process called fermentation. Such products are called fermented dairy products. Dairy fermentation involves adding bacteria to milk. The bacteria break down the milk sugar and, in the process, create a waste product called lactic acid. The lactic acid produced by fermentation gives these products their sour taste. Fermentation may also produce other molecules that can affect our health.
Are dairy products healthy? This is actually a difficult question to answer [1]. On one hand, dairy foods are a great source of protein, calcium, potassium, and vitamins B2 and B12. These nutrients ensure healthy growth and development of muscles, bones, and the immune system. On the other hand, many dairy products, like butter, cream, cheese, and sour cream contain a high amount of fat. About 65% of this fat is saturated fat. Eating too much saturated fat increases levels of "bad" cholesterol, called LDL-cholesterol, and may also cause inflammation. Both LDL-cholesterol and inflammation contribute to the development of heart disease, also known as cardiovascular disease (CVD).
How Are Immune Cells Involved in Heart Disease?
CVD is the main cause of death worldwide [2], however, it is a disease that can mostly be prevented by having a healthy lifestyle. The most common effects of CVD, like heart attacks, are caused by atherosclerosis. Atherosclerosis is a build-up of LDL-cholesterol and other fats on the insides of blood vessel walls (Figure 1), forming what are called plaques [3]. This build-up attracts cells of the immune system, which enter the vessel wall and eat LDL-cholesterol, the same way that they eat other threats to the body, like viruses and bacteria. As the plaque gets bigger, the immune cells send out inflammatory signals to attract even more immune cells to help. This makes the plaque inflamed, similar to a pimple. Eventually, the plaque may burst and clog up the blood vessel, which may partly block the blood flow and make it more difficult for the heart to work properly. Sometimes the flow of blood to the heart can be completely blocked, which causes a heart attack.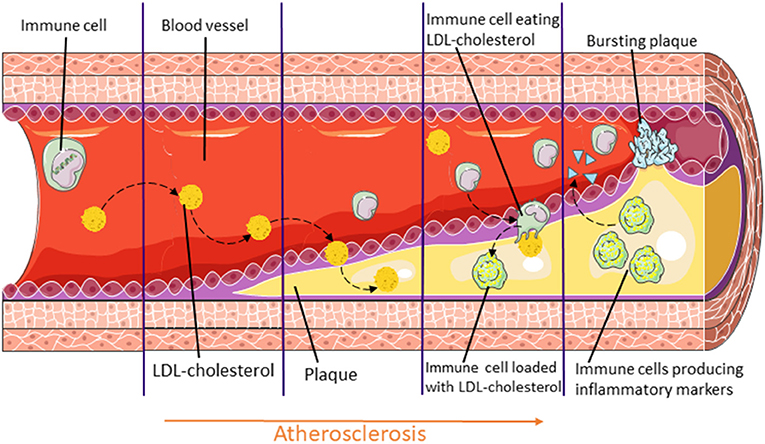 Genes and Proteins
DNA is like a cookbook, and genes are the different recipes for specific proteins. Cells do not need all genes at all times. However, when a cell needs a gene, it can make a copy of that specific recipe. This copy is called messenger RNA (mRNA). The copy of the needed protein recipe is sent to the part of the cell that makes proteins. When the cell no longer needs the protein, the mRNA is broken down. Therefore, by measuring the levels of different mRNAs, we can see which proteins a cell is currently making, which gives us information about the processes that are active within a cell. Proteins have many different functions in the body, like speeding up chemical reactions, supporting the shape of cells and tissues, and sending signals from one place to another. Many of the proteins produced by immune cells are involved in inflammation.
What Does Eating Fermented Dairy Products Do to Our Immune Cells?
We asked whether eating fermented or non-fermented dairy products affects the mRNA levels in immune cells. We wondered whether different dairy products would have different effects on inflammation, which, as you now know, is a key process in CVD. To study this, healthy participants were fed one of four different meals, made up of four different high-fat dairy products [4]. Two of the meals included non-fermented dairy products: butter and whipped cream. The other two included fermented dairy products: cheese and sour cream. We took blood samples from the participants before they ate anything. Then, they ate one of the four types of dairy meals. A few hours later, we took blood again. We collected immune cells from the blood samples and studied the cells' mRNA. We also measured the blood levels of inflammatory signals and amino acids, the building blocks of proteins.
We found changes in mRNA levels depending on which dairy products the participants ate (Figure 2). We saw that the number of mRNA molecules for proteins involved in inflammation increased after eating non-fermented dairy products and decreased after eating fermented dairy products. For example, the mRNA for proteins that activate immune cells and attract them to the site of inflammation decreased after participants ate the cheese meal. The same was true of mRNA for proteins involved in immune-cell communication. Communication-related mRNA increased after the participants ate the butter meal. This means that the immune cells were more active in inflammatory processes after the butter meal than after the cheese meal. We also found that, after eating the butter and whipped cream meals, the level of inflammatory signals in the participants' blood increased.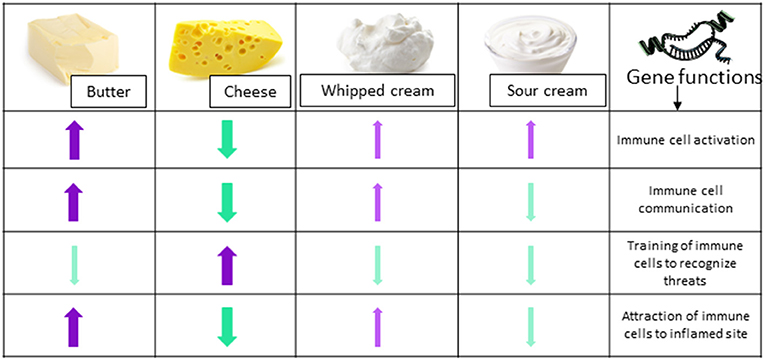 Does the High Protein Content of Cheese Lower Inflammation?
Cheese contains more protein than the other dairy products that we tested. When we eat proteins, they are broken down into their amino acid building blocks. This breakdown happens in the stomach and intestine, and the amino acids are absorbed into the blood. From Figure 3, we can see that the amino acid levels in the blood increased more after eating cheese than after eating the other dairy products. We also saw that, when amino acid levels increased, levels of the mRNAs we analyzed also increased. Similarly, when amino acid levels decreased, mRNA levels decreased. We cannot be sure that the changes in amino acids caused the changes in mRNA levels, but the amino acid changes may be linked to the mRNA changes. This result tells us it is possible that the high protein content in cheese may contribute to the lower levels of inflammatory gene mRNA seen after eating cheese compared to the other dairy products.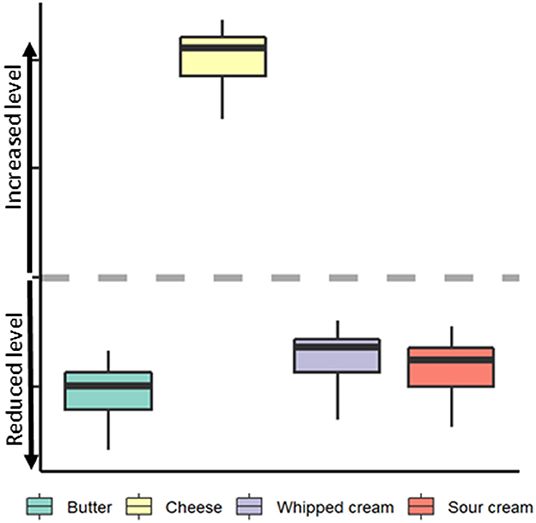 All Dairy Products Are not Equal
To summarize, after the participants ate the fermented dairy products, their immune cells were less active in inflammatory processes than after eating the non-fermented products. This may mean that fermented dairy is healthier than non-fermented dairy. The difference in nutrient content of different dairy products, such as the high protein content of cheese, may be involved in these effects. We did not examine the effects of eating other types of milk products in this study, such as goat's milk or plant-based milks like almond milk. Because goat's milk and almond milk contain different amounts of nutrients and fatty acids than cow's milk, drinking these milks would probably have a very different effect on immune cells.
As mentioned earlier, it is not easy to determine if dairy products are healthy or unhealthy. Previous research does not seem to agree on whether eating dairy increases or decreases a person's chance of developing CVD. One reason for these conflicting results may be that dairy products have different nutritional qualities. Conclusions from results of mRNA studies must be made carefully, because these studies can often be complex and the data can be interpreted multiple ways. We also need to see similar results from many different studies, to be confident of our findings. But at this point, our findings suggest that different dairy products may have different effects on our health! In future studies, it is important for researchers to consider categorizing dairy products into specific groups, rather than considering dairy as one large group.
Glossary
Fermentation: ↑ A process where sugar is broken down without the use of oxygen into end products like alcohol or lactic acid. Bacteria produce lactic acid during fermentation of dairy products.
Immune System: ↑ A network of different cells and molecules that has the very important job of protecting us from pathogens such as virus and bacteria.
Saturated Fat: ↑ Fat molecules without any double bonds between carbon atoms. High amounts of saturated fat is found in meat, dairy, and tropical oils like coconut and palm oil.
Inflammation: ↑ The process where the immune system is fighting and trying to eliminate a threat to the body, like virus or bacteria.
Cardiovascular Disease (CVD): ↑ Diseases of the heart and blood vessels. The most common forms of CVD, like heart attacks, are caused by atherosclerosis.
Atherosclerosis: ↑ The process where fats, like cholesterol, accumulate in blood vessel walls. Immune cell also enter the vessel wall to eat the cholesterol.
Plaque: ↑ The site of cholesterol and immune cell accumulation inside the vessel wall. As atherosclerosis continues, the plaque becomes bigger and more inflamed, like a pimple.
Messenger RNA (mRNA): ↑ A copy of a gene in the DNA. The mRNA carries the information about how to make a protein from the recipe in DNA to the cell machinery that makes proteins.
Conflict of Interest
GG was employed by company TINE SA.
The remaining authors declare that the research was conducted in the absence of any commercial or financial relationships that could be construed as a potential conflict of interest.
---
Original Source Article
↑Rundblad, A., Holven, K. B., Øyri, L. K. L., Hansson, P., Ivan, I. H., Gjevestad, G. O., et al. 2020. Intake of fermented dairy products induces a less pro-inflammatory postprandial peripheral blood mononuclear cell gene expression response than non-fermented dairy products: a randomized controlled cross-over trial. Mol. Nutr. Food Res. 64:2000319. doi: 10.1002/mnfr.202000319
---
References
[1] ↑ Drouin-Chartier, J. P., Cote, J. A., Labonte, M. E., Brassard, D., Tessier-Grenier, M., Desroches, S., et al. 2016. Comprehensive review of the impact of dairy foods and dairy fat on cardiometabolic risk. Adv. Nutr. 7:1041–51. doi: 10.3945/an.115.011619
[2] ↑ Global Burden of Disease (GBD) 2017 Causes of Death Collaborators. 2018. Global, regional, and national age-sex-specific mortality for 282 causes of death in 195 countries and territories, 1980-2017: a systematic analysis for the global burden of disease study 2017. Lancet. 392:1736–88. doi: 10.1016/S0140-6736(18)32203-7
[3] ↑ Libby, P., Ridker, P. M., and Hansson, G. K. 2011. Progress and challenges in translating the biology of atherosclerosis. Nature. 473:317–25. doi: 10.1038/nature10146
[4] ↑ Rundblad, A., Holven, K. B., Øyri, L. K. L., Hansson, P., Ivan, I. H., Gjevestad, G. O., et al. 2020. Intake of fermented dairy products induces a less pro-inflammatory postprandial peripheral blood mononuclear cell gene expression response than non-fermented dairy products: a randomized controlled cross-over trial. Mol Nutr Food Res. 64:2000319. doi: 10.1002/mnfr.202000319