Abstract
Dogs are working alongside humans to help protect animals in the wild that are endangered. People who work in the field of animal conservation can train dogs to use their powerful noses to sniff out where certain endangered species have been. Dogs help their human handlers by finding the scat (poop!) that members of an endangered species have left behind. Scat contains important information about these species that help us preserve their populations. In this article, you will learn why some animals are endangered, why studying scat is so important, and how teams of dogs and humans can work together to find scat.
Introduction
You have probably seen or heard about some of the many jobs that dogs do. For example, dogs can use their keen sense of smell to work with police, finding someone who is lost or detecting dangerous things like bombs or illegal drugs (see this Frontiers for Young Minds article). But, did you know that some dogs work with humans to help us learn about endangered animal species? Dogs help us by locating scat, which is the word that scientists use for poop. But how can locating scat help scientists to protect endangered animals? Keep reading to find out!
Why Are Some Animals Endangered?
An ecosystem is a community in nature in which biotic factors (things that are living, like animals and plants) and abiotic factors (things that are not alive, like the sun, land, water, and nutrients) work together to sustain life. In a healthy ecosystem, there is balance. When there is too much of a change in one of the factors, the ecosystem can become unbalanced. For example, if there is too much sunshine, the soil will dry up, plants will die, and there will be less food available for the animals that feed on those plants. In ecosystems, living organisms have important roles in keeping this balance: as producers, consumers, and decomposers (Figure 1).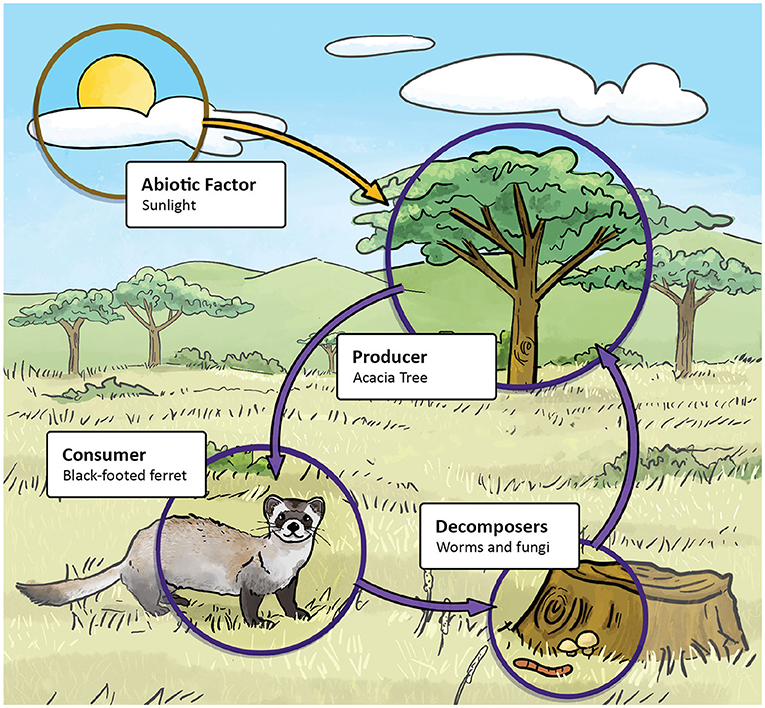 All the factors and roles in an ecosystem interact to ensure that ecosystems function properly. If the natural balance of the ecosystem crumbles, the species that live there will be in danger. Unfortunately, this is becoming more common all around the world. Animals have lost their habitats, causing them to become endangered and at risk of going extinct. But conservation scientists and their dog partners are working hard to bring ecosystems back to a healthy balance. And they are doing their work in a surprising way: by examining the poop of endangered species.
Examining Scat Can Teach Us About Endangered Species
DNA is a biological material that contains all the important information about the function and appearance of all living organisms. Every individual has their own unique DNA profile, and individuals of the same species have similar DNA profiles. Scat contains DNA, which makes scat collection a great way to find out biological information about an animal and the food it has eaten.
If scientists can find the scat left behind by an endangered species, they can learn useful information about the species without ever coming into direct contact with the animals. For example, scat provides data on what an animal has eaten and whether it is male or female, as well information about whether an animal has health-related concerns such as parasites or illness. Scat also provides information about how species might be interacting. For example, if similar food remains are found in the scat of two species, those two species might be competing for the same food. Thus, scientists can focus on increasing the food availability for the endangered species, which helps to conserve the animals [1].
The location of the scat is also important because it tells scientists where the endangered animal has been: is it living in an area with a lot of environmental contaminants like bacteria, viruses, or human trash? When scientists know that there are environmental contaminants, appropriate authorities can be contacted to help prevent further contamination, ensuring a safer environment and a more stable ecosystem. This can range from removing chemicals from the soil and water, to relocating animals to safer areas.
Detection Dogs Help Humans Find Scat
So, we know that examining scat is an important part of animal conservation, but how do scientists find the scat in the first place? Dogs can be trained to find specific odors and "tell" their handlers (with a bark or other behavior) where the source of the odor is located. One type of odor that dogs can be trained to locate is the smell of scat from a particular endangered species (Figure 2). Dogs are better than humans at this job! In detecting scat from koalas, for example, conservation dogs were 19 times faster than human experts [2]. This means a dog can find up to 19 samples before a human-only team finds just one.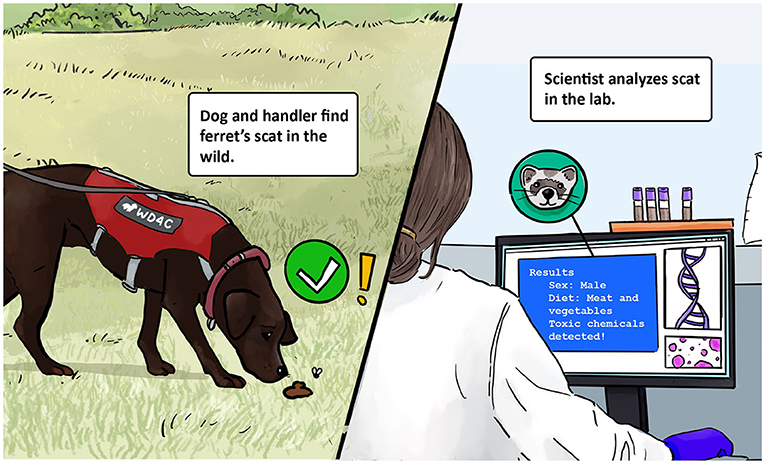 Dogs can locate scat with their sense of smell, even if it is in places hidden from human eyes. Since some animals have very small scat, they can easily be covered and hidden by big plants, leaves, and rocks. Dogs can use their snouts to sniff past all those obstacles. So, not only do dogs find scat faster than humans, but they can do so even in rough areas that are difficult for humans to move around in [3].
Preparing the Dog-and-Human Detection Team
Though the dogs provide the powerful noses, the important job of finding scat cannot be done without humans. Being an effective team takes hard work and communication from both the dog and its human handler. Training as a team can take many months to complete. First, the dogs must be trained to detect certain odors, like the specific odor of scat from black-footed ferrets. Once the dogs have learned about the important odor, the dog-handler duo prepares for the job by hiking through harsh and sometimes dangerous environments. This strengthens the duo's ability to work together and increases their comfort in the field, as they sniff out scat excreted by the endangered animals (Figure 3).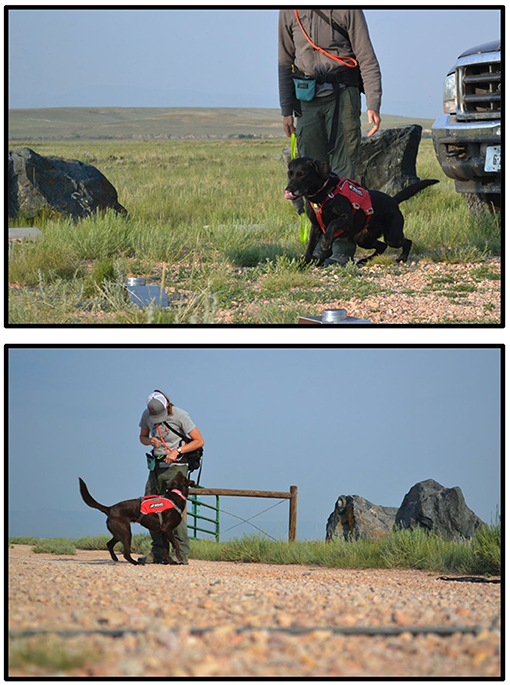 The human handlers need to keep both themselves and their dogs safe. They ensure that the detection dogs are wearing protective equipment like high-visibility vests, proper harnesses, and, in some cases, protective boots. The handlers must also be aware of their surroundings so that they do not scare away other animal species or disrupt the environment.
Underdog Detectives: From Shelters to Detection Jobs
Sadly, there are not as many homes as there are dogs in the world. Shelters and humane societies try their best to rehome as many dogs as possible, but some dogs will not get adopted because they have so much energy and a strong need for work and activities. These dogs are not ideal pets for a quiet life at home, but they are a great fit for detection work. Foundations like Working Dogs for Conservation work with shelters to find, adopt, and train these excited, high-energy dogs, making good use of their qualities. In doing so, these dogs find a purpose and a home where they can help us to save endangered species.
Some Final Thoughts
In this article, you learned about why some animals are endangered, why studying scat is so important, and how teams of dogs and humans can work together to find scat. You read about the training of dogs for conservation work, but what about the humans? There are many educational paths for people who want to be involved in training dogs and doing research, including studying psychology and biology. Also, it may be possible to volunteer in conservation work in your community. We can all work together to save endangered species!
Glossary
Scat: ↑ Droppings, feces, or "poop" from animals.
Ecosystem: ↑ Any community of living beings and the area that they live in. An ecosystem includes abiotic factors (sun, water, and land) and biotic factors (plants and animals), which work together to balance life.
Biotic Factors: ↑ The parts of an ecosystem that are living, like animals and plants.
Abiotic Factors: ↑ The parts of an ecosystem that are not alive, like the sun, land, and water.
Endangered: ↑ A species is considered endangered when its population size has decreased so much that it is close to becoming extinct and, unless given specific help, will no longer exist.
Extinct: ↑ Having no living members or not being in existence. A species is said to be extinct when it has disappeared from Earth. Extinction is typically a slow process.
DNA: ↑ A biological material that contains all the important information for a living being to function and grow. DNA is passed onto each organism from its parents.
Environmental Contaminants: ↑ Any chemical that is added into an ecosystem and causes harm. Humans are the major sources of environmental contaminants.
Conflict of Interest
The authors declare that the research was conducted in the absence of any commercial or financial relationships that could be construed as a potential conflict of interest.
---
References
[1] ↑ Orkin, J. D., Yang, Y., Yang, C., Yu, D. W., and Jiang, X. 2016. Cost-effective scat-detection dogs: unleashing a powerful new tool for International Mammalian Conservation Biology. Sci. Rep. 6:34758. doi: 10.1038/srep34758
[2] ↑ Cristescu, R. H., Foley, E., Markula, A., Jackson, G., Jones, D., and Frère, C. 2015. Accuracy and efficiency of detection dogs: a powerful new tool for koala conservation and management. Sci. Rep. 5:8349. doi: 10.1038/srep08349
[3] ↑ Bennett, E., Jamieson, L. T., Florent, S. N., Gill, N., Hauser, C., and Cristescu, R. 2022. Detection dogs provide a powerful method for conservation surveys. Austral Ecol. 47:894–901. doi: 10.1111/aec.13162