Abstract
In everyday life, we face situations that might make us feel angry, sad, frustrated, or scared. It is normal to feel badly sometimes, and usually these feelings go away with time. We can also use various strategies to make ourselves feel better in upsetting situations. In this article, we summarize some of the strategies that people can use when faced with tough situations, and how systems in the brain work together to allow us to use these strategies in childhood, adolescence, and adulthood.
What Is Emotion Regulation?
Imagine you are at your friend's birthday party. She has opened her presents and cut the cake, and now everyone is sitting down to watch a movie. The movie starts, and your stomach drops when you realize she is picked out a really scary movie. Some of your friends love scary movies, but you do not—they give you nightmares for a week! The lights go out and scary music begins to play as the movie starts. What do you do?
In our research lab, we study what happens in the brains of kids, teenagers, and adults when they feel angry, sad, or scared. Specifically, we study what scientists call emotion regulation, which is the way people cope with upsetting feelings. For example, in the scary movie scenario, you might want to feel less scared—or just seem less scared to your friends! There are many strategies you could use to feel less scared—you can think of these as tools in your emotion regulation toolbox. Specific regions in your brain work together to help you regulate your emotions and eventually feel better.
Emotion Regulation Strategies
Emotion scientists often focus on four emotion regulation strategies that people can use to make themselves feel better (Figure 1): (1) avoiding or leaving a situation that makes you feel bad; (2) distracting yourself so you pay less attention to whatever is making you feel bad; (3) thinking about the situation differently so that you feel better; and (4) changing whether you show your bad feelings to others, without changing how you feel [1]. How would each of these strategies play out in the scary movie example?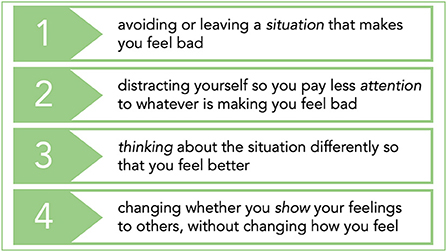 Using the first strategy, you could change your situation by leaving the scary movie to see if there are friends playing games or hanging out in another room. Sometimes just knowing that you have control over a situation (in this case, knowing you can leave the room and do something else) is enough to make you feel better about it [2]! With the second strategy, you might stay and watch the movie, but change your attention by closing your eyes during the scary parts or focusing on a part of the movie that does not make you scared—for example, distracting yourself by thinking about the costumes. You might be surprised by how much less scared you feel when you do not focus on the scary parts! If you choose the third strategy, you could change how you think about the movie. You could remind yourself that the people in the movie are actors on a set. You could even think about what it would be like to film a movie like this, and you could picture the actors interacting with each other between takes. Using the fourth strategy, you would watch the movie as usual, but could choose to laugh when you feel scared, so that you do not show everyone else that you are feeling spooked.
These are all strategies you can use on your own to deal with a tough situation. Sometimes parents or friends can help you use one of the strategies described above, by distracting you with a joke or by talking you through your problems [3]. In other cases, the simple presence of a supportive person can do the trick [3]. Both types of support—the mere presence of another person and specific types of help—can help us feel better in tough situations [3].
How The Brain Helps US Deal With Negative Emotions
In our research lab, we study what happens in our brains when we regulate our emotions. In most of our studies, we focus on the third strategy from the previous section. Our research asks what the brain is doing when people change how they think about a situation to help themselves feel better.
First, let us explore how we answer this question. We use a technology called functional magnetic resonance imaging (fMRI) to take pictures of people's brains (see this Frontiers for Young Minds article for a great explanation of how fMRI works [4]) while they are in a donut-shaped machine called an MRI scanner. A person can safely lay inside the scanner while scientists measure brain activity in real time. In a typical study in our lab, volunteers of all ages are invited to have their brains photographed in the MRI scanner while they look at pictures on a screen. Some of the pictures might cause the volunteers to feel sad or scared. For example, one picture might show two friends arguing, which might make the volunteers feel sad because it reminds them of a time they fought with a friend. The scientist will then ask the volunteers to change how they are thinking about the picture. For instance, the scientist might ask the volunteers to pretend they are the director and that the image is a scene in a movie they are directing. When the volunteers think about the picture this way, they can picture standing behind a camera, filming a scene in which two actors pretend to be in an argument. With this new way of thinking about the picture, the volunteers are thinking about how best to film the scene. For example, the volunteers could focus on whether the actors are in good lighting. Doing this might make the volunteers feel better, because they are not focused on how sad the picture makes them feel, but are instead thinking about it from a movie director's perspective (Figure 2). While the volunteers are changing how they think about the pictures, the MRI scanner is taking pictures of their brains.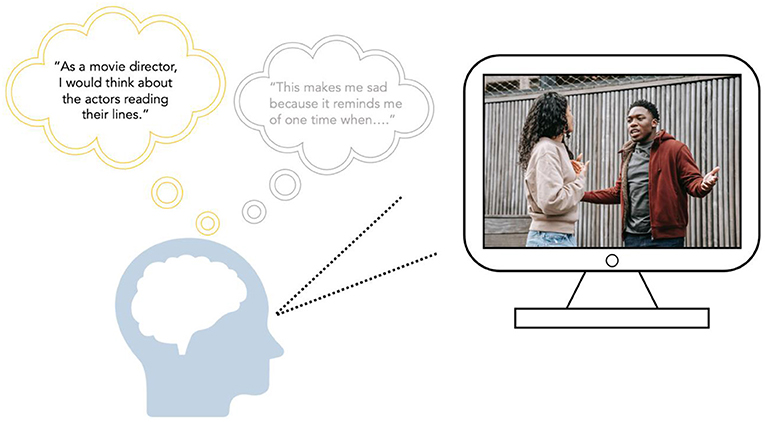 When we show a volunteer in the MRI scanner an emotional situation, such as an image of friends arguing or a clip from a scary movie, we usually see brain activity increase in the amygdala. The amygdala consists of two small, almond-shaped regions deep in the brain (the word "amygdala" comes from the Ancient Greek word for "almond"). When we are first presented with an emotional situation like a scary movie, the amygdala sends messages to the rest of the body [1]. This is like an alarm system that keeps us safe from harm, letting us know that we might be in danger. In this way, the amygdala plays an essential role in our survival! In the scary movie example, though, we might want to change how we think about the situation so that we feel less scared. What is the brain doing when we think differently about a negative situation?
Attempting to change how we think about a situation requires an area of the brain called the prefrontal cortex. The prefrontal cortex is important for many tasks that require a lot of mental effort, including language, planning, and controlling impulses and emotions. When we change how we think about a negative situation, several regions within the prefrontal cortex work together to decrease activity in the amygdala [1]. This process is a bit like turning down the volume of loud music; activity in the prefrontal cortex "turns down" activity in the amygdala (Figure 3). In our example, when a volunteer first sees the picture of friends fighting, we would likely see increased activity in the volunteer's amygdala. This increased activity would show that, as the brain initially reacts to the negative picture, brain cells within the amygdala respond to the image and send messages to other parts of the brain. Once the volunteer starts to think about the picture from a movie director's perspective, however, we would likely begin to see activity increase in the volunteer's prefrontal cortex, followed by a decrease in activity in the amygdala. This suggests that the prefrontal cortex is turning down the amygdala's response as the volunteer considers the negative image in this new way.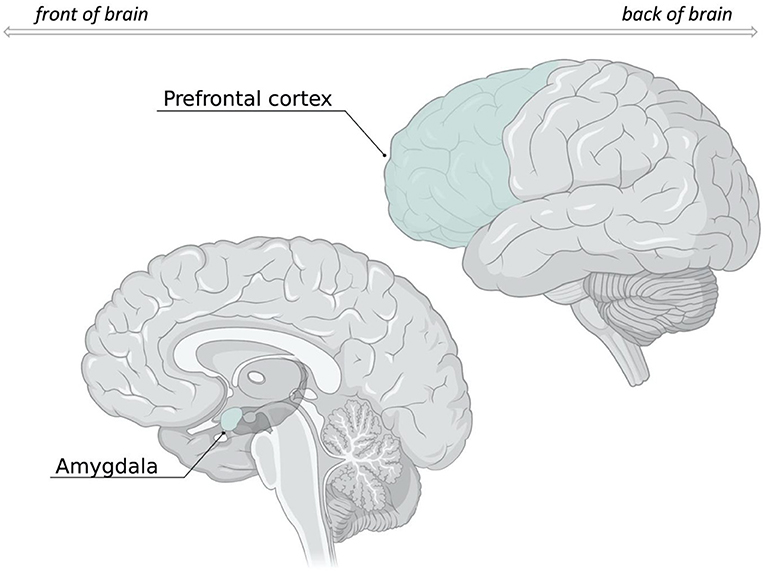 The Developing Brain
As we grow from children to adults, the emotion regulation system involving the prefrontal cortex and amygdala continues to mature. Various parts of the brain develop at different rates and the prefrontal cortex is one of the last brain regions to finish "growing up"—it continues to mature until we are about 24 years-old [5]! As a result, some of the skills we need to successfully regulate our emotions are not fully mature in childhood or adolescence [3]. That said, children and teenagers can still use the emotion regulation strategies we described—they may just need to practice their skills a bit more, especially as the prefrontal cortex matures [3]. The human brain has the remarkable ability to learn from experience, especially during childhood and adolescence. So, practicing various emotion regulation skills can help your brain learn how to use the skills more effectively and, in turn, become better at regulating emotions [6]. For this reason, it is important to find the strategies that work best for you, and to practice them often. With practice, your brain can become familiar with these strategies and help you feel better when you need to.
Funding
This work was supported by the National Science Foundation Graduate Research Fellowship Program Grant to NS-H (DGE-1650604) and the National Science Foundation CAREER Grant (1848004) to JS.
Glossary
Emotion Regulation: ↑ The process of dealing with unwanted feelings and emotions. There are many different strategies that people can use to regulate their emotions.
Functional Magnetic Resonance Imaging (fMRI): ↑ A technique used by scientists, in which a large magnet is used to take pictures of the brain.
MRI Scanner: ↑ A donut-shaped machine that a person can safely lay inside while scientists measure brain activity in real time.
Amygdala: ↑ A region deep inside the brain that helps to detect threats in the environment and takes part in the response to emotional situations.
Prefrontal Cortex: ↑ An area of the brain important for a variety of tasks that require a lot of mental effort, including language, planning, and controlling our impulses and emotions.
Conflict of Interest
The authors declare that the research was conducted in the absence of any commercial or financial relationships that could be construed as a potential conflict of interest.
---
References
[1] ↑ Ochsner, K. N., and Gross, J. J. 2005. The cognitive control of emotion. Trends Cogn. Sci. 9:242–9. doi: 10.1016/j.tics.2005.03.010
[2] ↑ Hartley, C. A., Gorun, A., Reddan, M. C., Ramirez, F., and Phelps, E. A. 2014. Stressor controllability modulates fear extinction in humans. Neurobiol. Learn. Mem. 11:149–56. doi: 10.1016/j.nlm.2013.12.003
[3] ↑ Méndez Leal, A. S., and Silvers, J. A. 2022. "Neuroscientific approaches to the study of self and social emotion regulation during development," in Oxford Handbook of Emotional Development, eds D. Dukes, A. Samson, and E. Walle. Oxford: Oxford University Press.
[4] ↑ Hoyos, P., Kim, N., and Kastner, S. 2019. How Is Magnetic Resonance Imaging Used to Learn About the Brain? Front. Young Minds. 7:86. doi: 10.3389/frym.2019.00086
[5] ↑ Tamnes, C. K., Herting, M. M., Goddings, A. L., Meuwese, R., Blakemore, S. J., Dahl, R. E., et al. 2017. Development of the cerebral cortex across adolescence: a multisample study of inter-related longitudinal changes in cortical volume, surface area, and thickness. J. Neurosci. 37:3402–12. doi: 10.1523/JNEUROSCI.3302-16.2017
[6] ↑ Denny, B. T. 2020. Getting better over time: a framework for examining the impact of emotion regulation training. Emotion. 20:110–4. doi: 10.1037/emo0000641