Abstract
Epilepsy is a disorder in which abnormal electrical signals between brain cells lead to seizures. Seizures can cause people to shake, blank out, or even lose consciousness. When medications cannot prevent seizures and there is no brain area that can be removed to solve the problem, a procedure implanting a vagus nerve stimulator (VNS) can be an option. VNS machines send electrical pulses up to the brain through a major nerve connecting the brain to the rest of the body—the vagus nerve. These signals calm the brain down, making intense seizures less likely. Since a racing heartbeat often comes before intense seizures, new cardiac VNS machines that listen to a patient's heart can send a burst of electricity to calm the brain down during a seizure. This article reviews how this revolutionary technology works, compares it to previous types of VNS and describes how it could help people who suffer from epilepsy.
What Are Seizures and Why Do They Happen?
The brain is made up of billions of cells that constantly communicate with each other. Signals between specialized brain cells called neurons allow us to do everything, from walking to talking to thinking. To do these things, neurons must be able to turn "on" (send signals to other neurons and to the body to make things happen), but they also must be able to turn "off" (stop sending those signals). For example, to walk, you need to pick up a foot, but you also need to put it down. Seizures happen when neurons do not turn off when they are supposed to, causing a person's brain and body to be stuck in a loop. Think about a cellphone or a computer that has glitched!
What Causes Malfunctions in Electrical Brain Signaling?
Malfunctions in brain signaling happen when neurons do not turn off/on at the right time. This can be because there is damage to an area of the brain (like a light switch that is damaged and will not turn off) or if the regular on/off rhythms glitch (like if an automatic light switch glitched and started turning on and off every minute instead of every 12 h). Infections, genetic conditions, abnormal structures in the brain (like tumors), and trauma can all cause seizures.
How Can We Tell When a Seizure Is Occurring?
In the movies, seizures are often shown as violent, uncontrollable shaking, and sometimes with a loss of consciousness. However, there exist many types of seizures depending on which brain location is not working as it should. Sometimes seizures can consist of a few seconds of staring or blinking, in which a person appears to "freeze up" or if they come from just one part of the brain, seizures can involve just one part of the body. Most of the time, all of a person's seizures will look the same as their previous seizures. The best way to know what type of seizures a person with epilepsy has is to ask the person (or their parents) what their seizures look like.
Why Does This Matter, and What Can We Do to Help?
Seizures and epilepsy are very common! About 1 in every 10 people will have a seizure in their life. Epilepsy, which is a condition in which a person who has had at least one seizure is more likely to have future seizures, affects 1 in 100 people. Most people with epilepsy can take medication to prevent seizures. However, roughly 1 in 3 people will continue to have seizures despite taking medications. These seizures can be life-threatening and cause injury. Even short seizures can affect people's ability to participate in normal activities like driving or going swimming by themselves. Epilepsy can also be embarrassing or frightening since it can be hard to explain to other people.
For people who have epilepsy that does not respond to medications (also called refractory epilepsy), surgery is one treatment option. Sometimes, brain surgeons can take out the part of the brain that is malfunctioning. However, sometimes the malfunctioning parts of the brain are too large to remove or involve either the whole brain or parts too important to remove. In these cases, devices called vagus nerve stimulators (VNS) can be an option.
What Is the Vagus Nerve and Why Do We Stimulate It?
The vagus nerve is a bundle of neurons that connects the brain to the internal organs, to control involuntary (automatic) functions like heartbeat and breathing (Figure 1). In the 1930s, researchers found that when the activity of the vagus nerve increased, there were also changes in brainwaves that could be seen by using a test called EEG. By the 1980s, scientists found that stimulating the vagus nerve could stop seizures in dogs. After further studies showed that stimulating the vagus nerve could also help people, doctors started using VNS to treat patients with refractory epilepsy—to stop seizures or prevent them from getting worse. While there are many theories, scientists and doctors still do not know for sure why VNS works (Figure 2).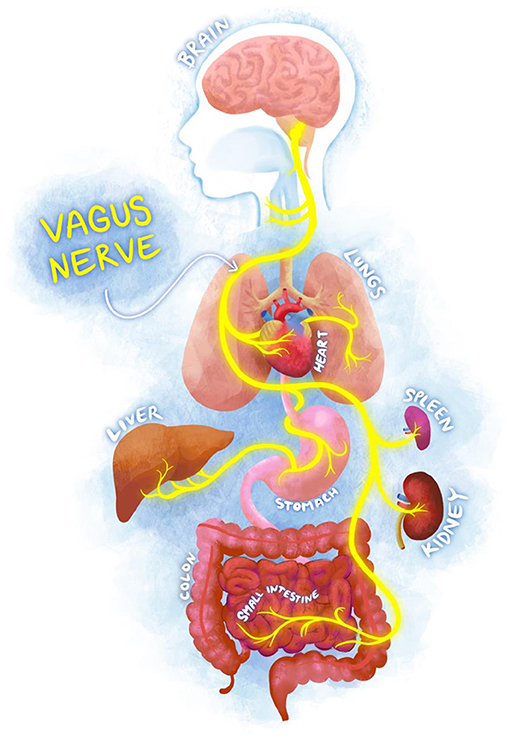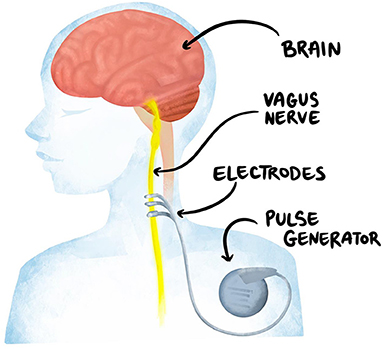 Amazingly, newer VNS models with better technology do not even need to wait for the seizure to be obvious to help stop it, since they can listen to the heart as well as the brain. How do they do that and why does it help?
Listening to the Heart Can Help Us Take Care of the Brain
Seizures can affect the whole body, including the heart. They can cause the heart to start beating faster and in a more irregular rhythm. Usually, this change in heart rate happens right before seizures [1]. Scientists developed a cardiac-based VNS machine that listens to the patient's heart to look out for a fast heart rate. When a fast heart rate is detected, the VNS sends an extra electrical pulse up to the brain through the vagus nerve [2–4]. This signal can calm the brain down and could help prevent seizures, though this has only been shown in adults and not yet in children. This is very exciting because the cardiac VNS machine could help stop seizures early, instead of stopping them once they are already obvious (Figure 3).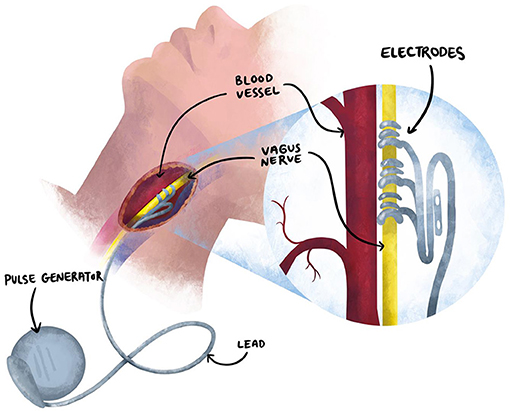 In our study, we looked at how the new cardiac VNS compares to the older version. After an average of 6 years of using the first model of the VNS machine, 30 teenage epileptic patients in two medical centers replaced their classic VNS machines with the new cardiac version. We checked up on the teenagers for about a year after the change. About a quarter of teens reported that their seizures were 80% less frequent. That means 1 in 4 teens could significantly reduce their seizure frequency by switching to cardiac VNS. We determined that about half of the teens ended up having the same number of seizures with the new machine as with the old system. Unfortunately, about a quarter of teens experienced slight discomfort while using the cardiac stimulation mode of the new VNS device and so opted for the classic non-cardiac stimulation they were used to [5].
Summary
In this article, we explained that epilepsy is a brain disorder that causes seizures. Seizures are caused by malfunctions in how brain cells called neurons communicate with each other, through electrical signaling. Seizures often begin with changes in heart rate—the patient's heart beats faster and more irregularly. Since 1 in 3 epilepsy patients continues to have seizures despite medications, VNS can be an option for those patients. Scientists and engineers have developed new VNS machines that listen to the patient's heart, which can help to stop seizures earlier. We studied 30 teenage epileptic patients who replaced their classic VNS machines with the new cardiac version and found that a quarter of patients experienced 80% fewer seizures than before. These promising results show us that for certain children suffering from epilepsy, cardiac VNS may be the best treatment option available, however, more research is needed to figure out how to eliminate discomfort, increase efficacy and learn more about how this technology helps children in particular.
Glossary
Neurons: ↑ Brain cells that communicate via electrical and chemical signals.
Seizure: ↑ Seizures are when a problem in the brain causes people to shake, experience funny feelings, blank out, or even lose consciousness against their own will.
Epilepsy: ↑ Epilepsy is a disorder in which abnormal electrical signals between brain cells lead to seizures.
Vagus Nerve Stimulator (VNS): ↑ A machine that sends electrical signals to the brain via the vagus nerve, to help end a seizure and return the brain to normal.
Vagus Nerve: ↑ A bundle of neurons that connects the brain to many of the body's organs, like the heart or the gut.
EEG: ↑ An EEG (electroencephalogram) is a test that measures the brain's electrical activity by placing small sensors on the head.
Heart Rate: ↑ Your heart rate is the number of times your heart beats in a minute.
Cardiac: ↑ Relating to the heart.
Conflict of Interest
The authors declare that the research was conducted in the absence of any commercial or financial relationships that could be construed as a potential conflict of interest.
Acknowledgments
RA of original source article received research support from the Procter Foundation and the Maxon Foundation.
---
Original Source Article
↑Hadjinicolaou, A., Jain, P., Arya, R., Roth, C., Whitney, R., Yau, I., et al. 2020. Generator replacement with cardiac-based VNS device in children with drug-resistant epilepsy: an observational study. Epilepsy Res. 167:106431. doi: 10.1016/j.eplepsyres.2020.106431
---
References
[1] ↑ Eggleston, K. S., Olin, B. D., and Fisher, R. S. 2014. Ictal tachycardia: the head-heart connection. Seizure. 23:496–505. doi: 10.1016/j.seizure.2014.02.012
[2] ↑ Boon, P., Vonck, K., van Rijckevorsel, K., El Tahry, R., Elger, C.E., Mullatti, N., et al. 2015. A prospective, multicenter study of cardiac-based seizure detection to activate vagus nerve stimulation. Seizure. 32:52–61. doi: 10.1016/j.seizure.2015.08.011
[3] ↑ Fisher, R. S., Afra, P., Macken, M., Minecan, D. N., Bagić, A., Benbadis, S. R., et al. 2016. Automatic vagus nerve stimulation triggered by ictal tachycardia: clinical outcomes and device performance–the U.S. E-37 trial. Neuromod. J. Int. Neuromod. Soc. 19:188–95. doi: 10.1111/ner.12376
[4] ↑ Hamilton, P., Soryal, I., Dhahri, P., Wimalachandra, W., Leat, A., Hughes, D., et al. 2018. Clinical outcomes of VNS therapy with AspireSR® (including cardiac-based seizure detection) at a large complex epilepsy and surgery centre. Seizure. 58:120–6. doi: 10.1016/j.seizure.2018.03.022
[5] ↑ Hadjinicolaou, A., Jain, P., Arya, R., Roth, C., Whitney, R., Yau, I., et al. 2020. Generator replacement with cardiac-based VNS device in children with drug-resistant epilepsy: an observational study. Epilepsy Res. 167:106431. doi: 10.1016/j.eplepsyres.2020.106431