Abstract
What is music and why do people think it is important for learning? Musical sounds fill our lives: from the music you share online to the songs playing in shops and restaurants, we are rarely far from music. Playing music gives the brain a multisensory "workout" that can strengthen memory, help us pay attention, and perhaps even improve reading ability. In this article, we highlight how various brain functions, including hearing, sight, movement, and social awareness, are impacted by music training. You do not have to be a Mozart to get the brain benefit of playing music, because music is so accessible and is more than just songs. Whenever you communicate without words (the way you say something instead of what you say) you are engaging in musical behavior. In this article, we explore research on learning and music to help us understand why music promotes brain development and how music can be a central part of our lives, in and out of the classroom.
Mind the Melody
What is music and why do people think it is important for learning? While people of every culture around the world make something that could be called music, not so many of them give it a name or think of it as separate from other activities, like dance or storytelling [1]. Because of this, we can only define music in a general way, as a form of communication through sound. Unlike speech, however, music is not generally considered semantic. This means that music does not use words to explain things. Think how difficult it would be to say something relatively simple like, "your left shoe is untied," using only melody and rhythm. At the same time, music can convey profound emotions that would be difficult to describe in words. In addition to music being an art form, any form of communication is partly musical and can be said to have musicality. Think of the different ways that you might say "huh." Each of those ways communicates something different. That is musicality. It is not a musical performance, but a musical aspect of communication. While not everyone is a master of the violin, everyone is a master of their own communication style.
At first, some scientists thought that the brain could benefit just by listening to music. They showed that people's scores on IQ tests improved when they listened to classical music by Mozart [2]. This led people to believe that listening to music makes you smarter. But this was an oversimplification and an overstatement of the results. Subsequent studies showed that listening to music does not actually make you smarter, but rather raises your level of enjoyment and decreases your feelings of stress, which sometimes result in better focus and improved test scores. This means that, while music in your home or classroom would not automatically improve your performance, it could be useful to help you to focus on a new task or in situations when increased attention and decreased stress are necessary. Further, just listening to music may have a different, or perhaps smaller, effect than actually playing music. This is much the same as the way that playing sports will improve your physical condition more than simply watching sports. Therefore, the focusing power of music could be amplified by playing along.
Music for Brain Power
Just like your muscles, your brain gets stronger the more you exercise it. The process of changing the brain through our experiences is called neural plasticity, because the brain is easily shaped, like plastic. Scientists measure neural plasticity with special brain-imaging techniques, like magnetic resonance imaging (MRI) or electroencephalogram (EEG), to find out exactly how playing music changes the way our brains work. Research with these machines, as well as studying the brains of people who have died, shows that auditory (hearing), visual (sight), and motor (movement) areas of the brain are specialized in expert musicians [3]. The specialization includes not only increased size of each brain area, but also the way each area functions. The science tells us that music is so much more than just a source of entertainment; it is an important part of our lifetime of learning. Here are some of the important things that happen in the brain when we play music (for review, see Zatorre [4]):
Auditory: The auditory system processes sound more effectively after musical training. People can detect smaller differences in frequency (the number of sound waves per second), making both speech and music easier to hear [5].
Motor: Brain areas that control instrument-related muscles and body parts (such as the fingers, the mouth, etc.) grow in size. More neurons in the brain are devoted to fine-tuning muscle movement in these areas.
Reading: Studies show that better musical ability is related to higher reading scores, suggesting a link between how well we hear speech and how well we can map speech sounds to letters.
Socio-emotional awareness: Playing music together can enhance socio-emotional awareness, which is the ability identify, manage, and express emotions constructively. A good example of this is that very young children are more likely to interact positively with people they play music with.
Making the Musical Connection
How can music change anything other than what you hear? The reason music can reach so many parts of the brain is that the auditory system is highly interconnected with other sensory areas [6] (Figure 1). Think of your earliest school days and you will probably remember singing songs. Many of us still sing the alphabet song when trying to remember the position of a given letter. If you do not believe us, what letter is four letters after "M"? Now tell us you did not hear the alphabet song in your mind as you looked for the answer! Songs, with repetitive melodies and rhythms, help us memorize lists, stories, and even processes.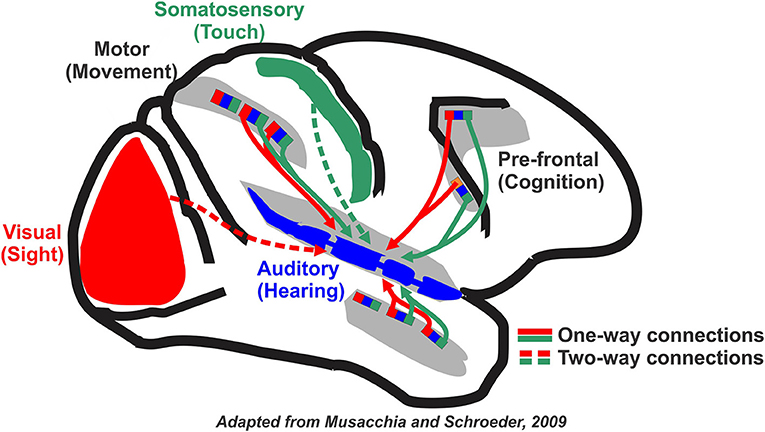 Figure 1 shows the pattern of connections between the main auditory area in the brain and the other areas of sensation and perception. When we learn to play music, our senses actively interact, including sight, touch, hearing, balance, movement, and proprioception (body awareness). There are two things that make music fairly unique in this process. First, when you play music, you are using all of your senses. For example, you feel the instrument in your hands, hear the sounds you play and see the notes on the music sheet. Since each different type of sensory information reaches your brain at a different time, your brain must work to synchronize all of this information. Second, when playing music, things happen at different speeds and time scales and must line up precisely. For example, a guitarist must know where s/he is on a beat, in a rhythm, in a melody, in a song, and in a concert, precisely lining up all of these things. While our understanding of how the brain keeps track of all these things remains unclear, it is likely that there are different timekeeping mechanisms ("clocks") for different timescales (speeds). Some of our research is based on the idea that synchronization between these brain "clocks" could help us analyze other sounds streams like speech.
A Lifetime of Music
Music is also a way that we express our identities: the music we play, or even listen to, can be a way of telling the world, our peers, our parents, and our friends something about who we are. In cultures that do not use writing, singers often hold an important place in society, because they memorize important things like history and family relationships. While musical expression of identity is usually positive, there have been times when one group of people found another group's music threatening, or even dangerous [7]. For example, in the late 1980s rap music artists were arrested for performances that authorities thought were hostile and disrespectful.
While you might think of singing a song or playing an instrument as a special activity that you do only at certain times, you should also notice that music and musical sounds fill our lives. Music is played on speakers and sometimes played live, and we can hear music in most public places, on buses, in elevators, and in restaurants. Many of us listen to music through our phones or in our cars as well. Our lives are truly full of music, and so our relationship to music can have a big effect on a lifetime of learning.
Glossary
Semantic: ↑ Relating to meaning in language or logic.
Melody: ↑ A sequence of single notes that is musically satisfying.
Rhythm: ↑ A strong, regular, repeated pattern of movement or sound.
Musicality: ↑ Musical talent or sensitivity.
IQ Test: ↑ Intelligence quotient, a standard measure of an individual's intelligence level based on psychological tests.
Neural Plasticity: ↑ The capacity of the nervous system to modify itself in response to experience or deprivation.
Conflict of Interest
The authors declare that the research was conducted in the absence of any commercial or financial relationships that could be construed as a potential conflict of interest.
Acknowledgments
We would like to thank those who assisted in the translation of the articles in this Collection to make them more accessible to kids outside English-speaking countries, and for the Jacobs Foundation for providing the funds necessary to translate the articles. For this article, we would especially like to thank Nienke van Atteveldt and Sabine Peters for the Dutch translation.
---
References
[1] ↑ Merriam, A. P., and Merriam, V. 1964. The Anthropology of Music. Evanston, IL: Northwestern University Press.
[2] ↑ Rauscher, F. H., Shaw, G. L., and Ky, K. N. 1995. Listening to Mozart enhances spatial-temporal reasoning: towards a neurophysiological basis. Neurosci. Lett. 185:44–7
[3] ↑ Schlaug, G. 2009. "Music, musicians, and brain plasticity," in Oxford Handbook of Music Psychology, eds S. Hallam, I. Cross and M. Thaut (Oxford: Oxford University Press), 197–207.
[4] ↑ Zatorre, R. J. 2003. Music and the brain. Ann. N. Y. Acad. Sci. 999:4–14. doi: 10.1196/annals.1284.001
[5] ↑ Musacchia, G., Sams, M., Skoe, E., and Kraus, N. 2007. Musicians have enhanced subcortical auditory and audiovisual processing of speech and music. Proc. Natl. Acad. Sci. U.S.A. 104:15894–8. doi: 10.1073/pnas.0701498104
[6] ↑ Musacchia, G., and Schroeder, C. E. 2009. Neuronal mechanisms, response dynamics and perceptual functions of multisensory interactions in auditory cortex. Hear Res. 258:72–9. doi: 10.1016/j.heares.2009.06.018
[7] ↑ Binder, A. 1993. Constructing racial rhetoric: media depictions of harm in heavy metal and rap music. Am. Sociol. Rev. 58:753–67.