Abstract
Many activities take place at sea. For example, goods are transported by ships, people enjoy time by the beach, piers and buildings are constructed on the coastline, and fishermen fish. Human activities change the sea's environment and can harm ocean animals and plants. To find a good balance between using and protecting the sea, many countries have begun planning their ocean space—a process called marine spatial planning. Planners use tools developed by researchers to understand how various human activities will affect the sea in the future. When we added climate change into a software tool for marine spatial planning in Sweden, we found that climate change alone might be as harmful to the sea as all other human activities taken together! Climate change is strongly affecting the sea and should, therefore, be included in marine spatial planning.
Marine Pressures
A lot of activities take place by the sea and at the beach. For instance, families enjoy a day out at the beach collecting shells, swimming, and having ice cream. Fishermen trawl the ocean with their nets to catch the fish we eat. Offshore windmills produce energy, and container ships transport goods from one place to another. All these activities affect the sea's environment, which means they impact marine animals and plants. There are other pressures on sea organisms that are not visible to our eyes. For example, chemicals, like the fertilizers and pesticides used in agriculture, are carried by rivers and released into the sea, causing pollution. Sometimes toxic products like oil or old ammunition are dumped into the sea, accidentally or intentionally. All these pressures threaten marine animals and plants. The sum of all these effects is called the cumulative impact.
Marine Spatial Planning
People want to continue to experience the benefits of the ocean, and the number of things people want to use the ocean for is increasing. This makes the sea more and more crowded. Therefore, to prevent the sea from being damaged or destroyed, we must be cautious—we must find the appropriate balance between using and protecting a given sea area. To achieve this, in recent years many governments have begun using a process called marine spatial planning (MSP). MSP is a relatively new way of managing human marine activities. It is a long-term planning process that guides where, when, and how humans can use the ocean. MSP can help countries balance all the activities that happen in the sea and make sure that everyone benefits, while also protecting the marine environment.
MSP is based on communicating with marine users (such as fishermen, investors, and shipping companies), and it begins with an analysis of the current situation. Responsible planners gather as much information as they can on everything that is taking place in the sea, from protected nature areas to places where underwater mining is occurring. Then the planners can map these activities to see where they overlap, so that they can understand some of the key issues that the plan must address. For example, planners may notice that a military training area must be extended, or that a shipping route should be moved a bit to allow the construction of a windfarm. Proper planning must take cumulative impacts into account.
Sweden is located in Northern Europe, and its long coastline (3,200 km) has many islands and archipelagos. The sea is deeply rooted in Swedish culture—including sailing, fishing, sea kayaking, floating saunas, postcard-pretty red fishing sheds, and wild nature. At the same time, shipping is increasing in the sea around Sweden, as is the demand for renewable wind energy. Sweden does not produce oil or gas, but sand must be mined from the ocean to make concrete. In addition, naval defense is increasingly important, coastal tourism is growing, and the country's cultural heritage must be respected. MSP is necessary in Sweden, so that all these human activities can have space without interfering with each other and without causing excessive damage to the environment.
Symphony: A Tool for MSP
For MSP in Sweden, experts developed and used a tool called Symphony, which is a computer software representation of the marine environment [1]. Symphony compiles information from 32 maps representing various ocean ecosystems (for example, where cod and reefs of mussels are living) and 41 maps showing pressures from human activities (such as shipping and trawl fishing)—all from the sea around Sweden [2]. Symphony uses sensitivity scores, which indicate how much each ecosystem component is affected by each human pressure. For instance, cod might not care much if tourists fish or if windfarms are constructed, but they might be sensitive to pollution or industrial fishing.
With all this information, Symphony calculates the cumulative impact for each pixel (small area) like this: it multiplies the occurrence of one ecosystem component in a pixel (for example, how much mussels are present in that area) by the importance of one pressure in the same pixel (for example, how much trawling is taking place in that area) and the corresponding sensitivity score (how sensitive mussels are to trawling). Symphony does this multiplication for all possible combinations of ecosystem components (32) and pressures (42) for that pixel and, finally, sums all the multiplications to obtain the cumulative impact in that pixel. By doing this for each pixel of the sea, Symphony creates a map of the cumulative impact [2]. This is a lot of math!
In Figure 1, you can see how much human activities are impacting the ecosystems along the coast of Sweden. Symphony also provides detailed results for a chosen location, for example it can show which pressure is having the largest effect on the marine ecosystem. In Swedish waters, the cumulative impact is high. Pressures like industrial fisheries, pollution, and high amounts of fertilizers dominate. Knowing where the environmental impact is high or low is crucial for MSP. With this knowledge, marine plans can be optimized to protect the ocean environment. For example, the most damaging activity in an area can be reduced or moved elsewhere, and activities that are not harmful for the local ecosystem can be prioritized.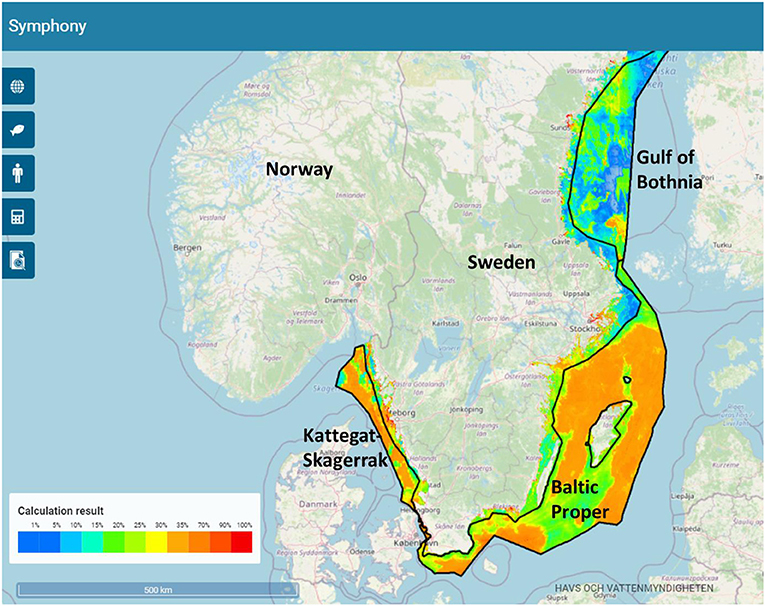 Including Climate Change in Symphony
As described above, marine planners use Symphony to get an idea of how their plans will affect the environment in the future. It is also important for planners to consider the future climate, which is likely to raise the cumulative impact even more. Climate change describes a change in the average weather conditions, such as temperature and amount of rain, in a region over a long period of time—at least 30 years. The changes are due to human activities that release greenhouse gases, which trap the sun's heat near Earth, warming the atmosphere and the ocean. Climate change modifies the ocean salinity (salt content), ocean currents, ice cover, and sea level. Possible future changes have been calculated for various amounts of greenhouse gas release, using computer-based climate models and oceanographic models for the sea surrounding Sweden [3].
This way, along with the 41 pressures from human activities, we added climate change into Symphony to assess how much stress it will cause on the marine ecosystems of the Swedish seas. Not all effects of climate change are included—only changes in temperature, salinity, and ice cover. All changes were modeled for the end of this century, meaning approximately the year 2100 [4].
The results from Symphony tell us that, in the future (when your grandkids are the age you are now!), the impact of climate change on the marine environment will be huge. It will be approximately as impactful as all the other 41 pressures from human activities put together [4]. Far up north in the Gulf of Bothnia, climate change may even become a threat several times bigger than all the human activities of today combined (Figure 2).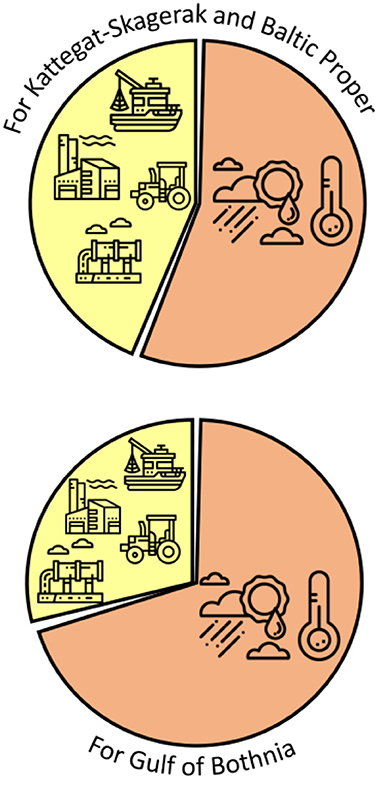 Climate Change in MSP in Sweden
The researchers who developed Symphony have recommended that Swedish marine planners consider how climate change will affect separate areas of the sea in unique ways (Figure 3). Planners have been advised to plan marine activities in a flexible way that takes local conditions into account. This is called adaptive management, and it means that human activities such as fishing, shipping, and mining should sometimes be avoided in areas that are likely to remain healthy in the face of climate change. This will help these areas to stay strong and act as safe harbors for animals and plants as climate change progresses—such areas are called climate refugia.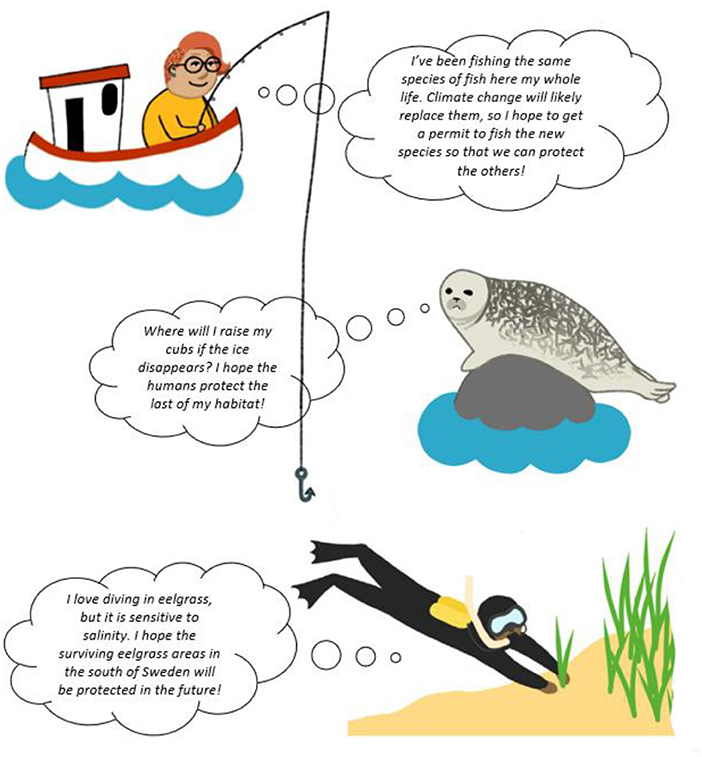 Adaptive management might also mean that planners propose new sea-based activities when climate change is projected to modify the ecosystem of an area [4]. For example, if it is likely that an area will turn into freshwater, planners can suggest preparatory measures that will strengthen freshwater ecosystems over time, as well as activities that involve the careful use of freshwater organisms.
Most importantly, marine planners must monitor the progress of climate change in the sea. Research is constantly improving, so management decisions must continuously adapt to new information. There are still many things we do not know about the effects of on-going climate change, but it will clearly have an enormous impact on the marine environment. The extent of this impact is a direct consequence of our decisions today and in the next decades. If we decrease our production of greenhouse gases and plan properly for future use of the sea, we may be able to conserve valuable ecosystems and continue to experience the benefits of the ocean.
Glossary
Cumulative Impact: ↑ Sum of the effect of all pressures from human activities on marine animals and plants.
Marine Spatial Planning: ↑ A long-term planning process that guides where, when, and how humans can use the ocean.
Sensitive Score: ↑ Number indicating how much an ecosystem component is affected by a human pressure.
Climate Change: ↑ A change in the average weather conditions, such as temperature or amount of rain, in a region over a period of time of at least 30 years.
Greenhouse Gases: ↑ Gases which have the capacity to trap the sun's heat in the atmosphere at the surface of the Earth and as a consequence warm it up.
Salinity: ↑ Amount of salt dissolved in water.
Adaptive Management: ↑ A form of environmental management in which actions are regularly updated based on new information and new knowledge.
Climate Refugia: ↑ Areas that are less affected by climate change over time, and which may continue to be good places for threatened plants and animals to live.
Acknowledgments
This work was financed by the ClimeMarine project, funded by the Swedish Research Council for Sustainable Development (Formas) within the framework of the National Research Programme for Climate (grant no. 2017-01949).
Conflict of Interest
JP was employed by Kelonia AB.
The remaining authors declare that the research was conducted in the absence of any commercial or financial relationships that could be construed as a potential conflict of interest.
---
Original Source Article
↑Wåhlström, I., Hammar, L., Hume, D., Pålsson, J., Almroth-Rosell, E., Dieterich, C., et al. 2022. Projected climate change impact on a coastal sea—as significant as all current pressures combined. Glob. Change Biol. 28:5310–9. doi: 10.1111/gcb.16312
---
References
[1] ↑ Halpern, B. S., Walbridge, S., K. A., Kappel, C. V., Micheli, F., D'Agrosa, C., et al. 2008. A global map of human impact on marine ecosystems. Science 319:948–52. doi: 10.1126/science.1149345
[2] ↑ Hammar, L., Molander, S., Pålsson, J., Schmidtbauer Crona, J., Carneiro, G., Johansson, T., et al. 2020. Cumulative impact assessment for ecosystem -based marine spatial planning. Sci. Total Environ. 734:139024. doi: 10.1016/j.scitotenv.2020.139024
[3] ↑ IPCC. 2021. "Climate change 2021: the physical science basis," in Contribution of Working Group I to the Sixth Assessment Report of the Intergovernmental Panel on Climate Change, eds V. Masson-Delmotte, P. Zhai, A. Pirani, S. L. Connors, C. Péan, S. Berger, et al. (Cambridge; New York, NY: Cambridge University Press). p. 2391. doi: 10.1017/9781009157896
[4] ↑ Wåhlström, I., Hammar, L., Hume, D., Pålsson, J., Almroth-Rosell, E., Dieterich, C., et al. 2022. Projected climate change impact on a coastal sea—as significant as all current pressures combined. Glob. Change Biol. 28:5310–9. doi: 10.1111/gcb.16312