Abstract
Chronic subdural haematoma is the medical name for bleeding that occurs between the skull and the brain. It usually happens to older people, like grandparents. If it causes serious symptoms, brain surgeons will operate. However, even after surgery, chronic subdural haematomas can come back, and further operations may be needed. We tested whether a medication called dexamethasone could prevent chronic subdural haematomas from coming back by performing a study of 750 people, in which half received the medication and half did not. The results showed that dexamethasone was good at stopping brain bleeds from coming back, but it had other effects that caused patients to have a more difficult recovery than did those who did not take it. These results are really important to stop doctors from giving this medication—it shows that, at the moment, surgery alone is the best treatment.
Introduction
Chronic subdural haematoma, commonly called a brain bleed, is a condition in which bleeding occurs on the brain surface, between the skill and the brain. It most commonly affects older people such as grandparents (Figure 1). A brain bleed can put pressure on the brain and stop it from working well. People with subdural haematomas often feel unsteady, confused, or weak on one side of the body. These problems can develop gradually over days or weeks and are generally noticed by the person's family, including their children and grandchildren.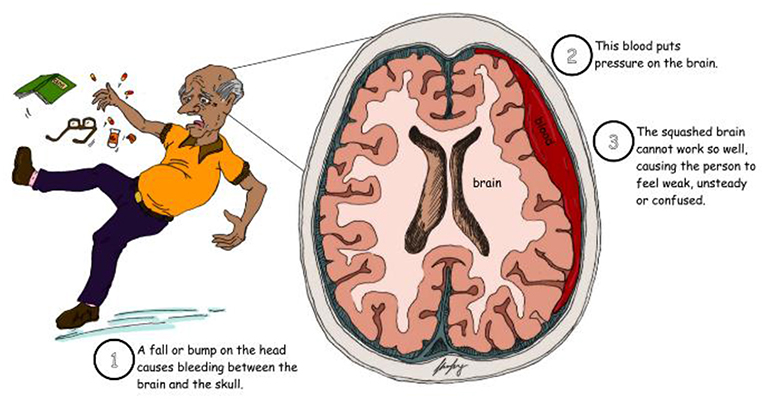 Why Does Chronic Subdural Haematoma Need Brain Surgery?
Brain surgeons are usually the doctors who treat brain bleeds. The main form of surgery used to treat chronic subdural haematoma is called a burr hole evacuation. In this operation, surgeons drill some holes in the skull, which allow them to wash out the blood (Figure 2). This surgery is necessary because the skull is a closed box that is just the right size to fit the brain. It does a great job of protecting the brain too! However, when blood or fluid gets into the skull, this puts pressure on the brain, stopping it from working normally. Opening up the closed box of the skull and washing out the blood relieves the pressure on the brain, allowing it to work normally again.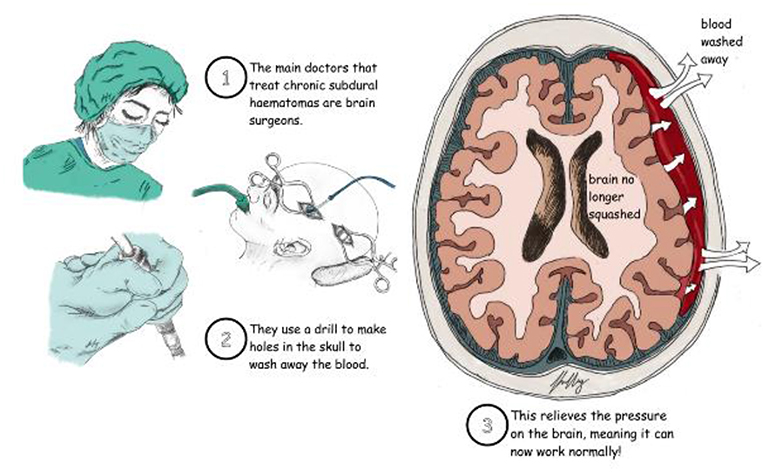 Burr hole evacuations usually take 30–60 min and the surgery is pretty straightforward! Most people get better very quickly after this operation, but the blood can return in up to two of every 10 patients, requiring another operation.
Scientists have been looking for drugs that might prevent the bleeding from coming back. In the 1970s, some doctors thought that a medication called dexamethasone (the same medication used to treat patients with severe COVID-19) worked well [1]. Doctors in the US, the Netherlands and Spain used dexamethasone with some success, but their studies could not say for sure that the drug was always helpful [2, 3]. So, in 2013, we designed a large study that would allow doctors to be certain whether dexamethasone worked to prevent return of chronic subdural haematomas, and whether it improved recovery for patients with these brain bleeds.
Designing Medical Studies
Doctors and researchers use lots of different types of study to find out if one way of treating a condition is better than another way. Some of these studies are better than others. The best type of study is called a randomized controlled trial, in which people with a certain medical conditions are randomly chosen to receive one treatment or another. Randomized controlled trials reduce bias in medical studies; for example, without the random choosing process, doctors might choose people who are more likely to benefit from one of the treatments, so the study might incorrectly show that that treatment is better.
When designing randomized controlled trials, there are three other critical things to consider:
Who do we include or exclude?
How do we judge which treatment is better? It is important to pick a measure that is important to both the doctors and the patients.
How many people do we need? To determine this, we often need the help of experts in medical statistics.
Our Randomized Controlled Study
The previous studies using dexamethasone for chronic subdural haematoma were not randomized controlled trials, so we thought that it was necessary to conduct such a study before recommending the use of this drug for patients with brain bleeds. We designed a randomized controlled trial to test whether people who received dexamethasone along with surgery for a chronic subdural haematomas did better than those who took no medication [4]. It took just over 3 years to recruit 750 patients to the study from around the UK. Half of the patients got dexamethasone and the other half got a placebo, which is a pill or treatment that looks just like the medication but does not contain the active ingredient. We followed up with the patients for 6 months to see how well they recovered from their operations and whether their chronic subdural haematomas came back (Figure 3A) [5].

As we expected, chronic subdural haematomas were much less likely to come back if dexamethasone was given, with only 2% of patients in the dexamethasone group needing repeat surgery compared to 7% in the placebo group. However, surprisingly, the patients who were given dexamethasone still made a worse recovery overall compared to the placebo group (Figure 3B). This means that, despite helping with the brain bleed, the dexamethasone caused complications that made patients more ill. These complications included infections and high blood sugar, which made it harder for patients to make a full recovery.
Conclusion
Randomized controlled trials are important to accurately compare two treatments. In our randomized controlled trial, we showed that, although dexamethasone reduces the need for further operations in patients with chronic subdural haematoma, it is associated with more complications during recovery. This study was really important for providing a definitive answer about whether dexamethasone was a good medical treatment for people with brain bleeds. It showed that, even though previous scientific studies suggested dexamethasone was effective, the only way to know for sure was to do a large, randomized controlled trial like we did. Because of our work, dexamethasone is no longer given for brain bleeds—our results changed the practices of doctors around the world.
Unfortunately, chronic subdural haematoma is becoming more common [6]. Future research will hopefully improve treatment. For example, other randomized controlled trials have shown the importance of inserting a small drain under the skull for a few days after surgery [7]. In the future, we hope that patients will be able to have less invasive surgeries or even avoid surgery altogether!
Funding
The Dex-CSDH trial was funded by the National Institute for Health Research Health Technology Assessment Programme (Dex-CSDH ISRCTN number, ISRCTN80782810).
Glossary
Chronic Subdural Haematoma: ↑ When blood collects between the skull and the brain. This can put pressure on the brain and stop it from working well, which may require an operation.
Burr Hole Evacuation: ↑ A procedure where the neurosurgeon uses a special drill to drill some small holes in the skull to drain the collected blood. This reduces pressure within the skull.
Dexamethasone: ↑ A medication to relieve inflammation by moderating the body's immune response to an irritant, in this case, the collection of blood between the skull and the brain.
Randomized Controlled Trial: ↑ A medical study in which patients are randomly assigned to one of two treatments. Results of these trials provide the best evidence about whether a treatment works.
Bias: ↑ A problem where particular research finding deviates away from the "true" finding. This could be caused by flaw in the study design or the method of collecting or interpreting information.
Placebo: ↑ A treatment that is usually identical to the medication being tested (so that patients can not tell the difference), but that does not contain the active drug.
Conflict of Interest
The authors declare that the research was conducted in the absence of any commercial or financial relationships that could be construed as a potential conflict of interest.
---
Original Source Article
↑Hutchinson, P. J., Edlmann, E., Bulters, D., Zolnourian, A., Holton, P., Suttner, N., et al. 2020. Trial of dexamethasone for chronic subdural hematoma. N. Engl. J. Med. 383:2616–27. doi: 10.1056/NEJMoa2020473
---
References
[1] ↑ Bender, M. B. and Christoff, N. 1974. Nonsurgical treatment of subdural hematomas. Arch. Neurol. 31:73–9. doi: 10.1001/archneur.1974.00490380021001
[2] ↑ Berghauser Pont, L. M. E., Dammers, R., Schouten, J. W., Lingsma, H. F., and Dirven, C. M. F. 2012. Clinical factors associated with outcome in chronic subdural hematoma: a retrospective cohort study of patients on preoperative corticosteroid therapy. Neurosurgery. 70:873–80; discussion 880. doi: 10.1227/NEU.0b013e31823672ad
[3] ↑ Delgado-López, P. D., Martín-Velasco, V., Castilla-Díez, J. M., Rodríguez-Salazar, A., Galacho-Harriero, A. M., and Fernández-Arconada, O. 2009. Dexamethasone treatment in chronic subdural haematoma. Neurocirugia. 20:346–59. doi: 10.1016/S1130-1473(09)70154-X
[4] ↑ Kolias, A. G., Edlmann, E., Thelin, E. P., Bulters, D., Holton, P., Suttner, N., et al. 2018. Dexamethasone for adult patients with a symptomatic chronic subdural haematoma (Dex-CSDH) trial: study protocol for a randomised controlled trial. Trials. 19:670. doi: 10.1186/s13063-018-3050-4
[5] ↑ Hutchinson, P. J., Edlmann, E., Bulters, D., Zolnourian, A., Holton, P., Suttner, N., et al. 2020. Trial of dexamethasone for chronic subdural hematoma. N. Engl. J. Med. 383:2616–27. doi: 10.1056/NEJMoa2020473
[6] ↑ Kolias, A. G., Chari, A., Santarius, T., and Hutchinson, P. J. 2014. Chronic subdural haematoma: modern management and emerging therapies. Nat. Rev. Neurol.. 10:570–8. doi: 10.1038/nrneurol.2014.163
[7] ↑ Santarius, T., Kirkpatrick, P. J., Ganesan, D., Chia, H. L., Jalloh, I., Smielewski, P., et al. 2009. Use of drains versus no drains after burr-hole evacuation of chronic subdural haematoma: a randomised controlled trial. Lancet. 374:1067–73. doi: 10.1016/S0140-6736(09)61115-6